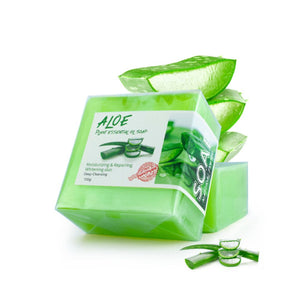 Alove Plant Essential Oil Soap 100g芦荟精油皂
Regular price
$3.80
$0.00
Aloe vera is a succulent plant that has been used for centuries for its medicinal properties. A popular ingredient in skincare products, it soothes and moisturizes the skin.
Aloe soap may provide the following benefits:
Aloe vera moisturizes and soothes dry skin.
Skin soothing: Aloe vera has anti-inflammatory properties.
Aloe vera contains antioxidants that promote skin regeneration.
Aloe vera can reduce wrinkles and fine lines by boosting collagen production.
Protection from harmful UV rays: Aloe vera has natural sun protection properties.
Aloe soap can help hydrate and nourish the skin while also promoting healing and anti-aging effects. When choosing a skincare product, it's imperative to choose one that suits your skin type and use it as directed.
---
Share this Product
---
More from this collection